Can You Drink the Cup?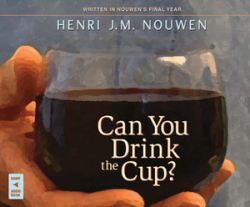 Description
"Can you drink the cup...?" Jesus asked this question of his friends James and John (Matthew 20:20-23). It is the question, explains our spiritual guide Henri Nouwen, that "has the power to crack open the hardened heart and lay bare the tendons of the spiritual life."
Nouwen uses the cup as a metaphor to articulate the basic postures of the spiritual life: holding, lifting and drinking. The cup is a powerful image in our human experience. We use cups in our celebrations of a variety of events. Nouwen reminds us that we also use the cup as a symbolic vessel - for sorrow, joy, blessings, salvation. "Drinking our cup to the bottom is seen as the expression of the full freedom of the sons and daughters of God," Nouwen writes. His goal is to make the question Jesus posed to James and John pierce our hearts so that a personal answer can emerge from it.